Page updated on the 06/06/2020 at 8:15 am
Dear guests,
Since the 2nd of june, the campsite is open. The 15th of june the borders of the European Union and the Schengen countries will open so that you'll be able to travel to Arleblanc.
It's our goal to offer you a pleasant and convivial stay in the best sanitary conditions. Our 50 50 years of experience make all the difference.
Be assured, we'll put everything in place so that you can spend your holidays in all serenity and security whether you're in a camping spot or in a mobile home.
Our domain is situated in plain nature and offers 167 places on 7 hectares, permitting social distancing far beyond the 4m2 prescribed and making it possible to have access to all of our usual services; sanitary blocs, restaurant, grocery store, entertainment, waterpark and swimming pool as well as the private beaches along the riverside.
Don't hesitate to follow Arleblanc on Facebook to be the first informed.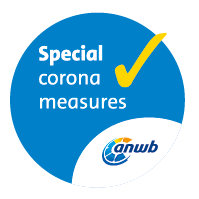 What sanitary measures are taken on our campsite?
We present you the measures put in place to permit you to enjoy your holidays in a safe way but above all a real vacation, with no worries on your mind. The French government has foreseen to adapt the sanitary measures every three weeks, the next announcements will be for the 22th of june and around the 10th of july and are expected to liberalise the sanitary measures and approach a normal situation.
We propose two main principles :
-A complete program of services and entertainment.
-Enforced sanitary measures.
Welcoming you at the reception:
-An itinerary between entering and leaving the reception is put in place
-Respecting social distancing
-Hydrogel at your disposition
-Installation of a plexiglass screen at the reception desk
-We recommend paying by bank card
-Keys to the mobile homes are disinfected
-U are obliged to wear a mask at the reception.
The waterpark:
-The surface of the surrounds have doubled since 2019 which permits everyone to enjoy fully all of the facilities.
-The water in the pools is chlorinated, disinfected and disinfecting. The virus cannot survive in the water, so you can enjoy a swim in all serenity.
-Hydrogel at your disposition at the entrance of the waterpark.
-Until further news, you'll have to respect barrier gestures and social distancing, except for people from your own family.
-Bath towels are obligatory, surrounds are disinfected regularly.
The river:
The river runs alongside the campsite for 900 meters and is an alternative for our waterpark and swimming pools. A water surface of 800 meters permits you to swim freely and several private beaches are destined to our guests and give you the opportunity to relax in the sun. Water from several sources next to our campsite guarantee that the water alongside the camping is constantly refreshed and renewed.
Entertainment:
We're preparing a large program of convivial and varied entertainments. Most of the activities are taking place outside and we have a lot of space at our disposal so that respecting social distancing is quite easy. .
Among others we offer aquagym sessions, a training circuit for adults and for kids, hiking, table tennis, tennis, miniature golf, jeu de boules, and several sporty challenges and new sporty activities that allow social distancing and that we will present to you soon.
Nightly entertainment:
You'll find performances, concerts, magic, game night….. Our spacious terrace allows social distancing without any problem.
The kids club:
Your kids are welcomed in small groups of no more than 10 children at a time. Of Course we'll all wash our hands regularly and the activities are mostly taking place outside and will be adapted to sanitary recommendations. The kids club is open every day except for weekends for children between 5 and 10 years old.
Rental accommodations; mobil-home, chalet, gîte:
-A specific cleaning procedure is put in place with disinfecting products and virucides.
-The accommodations will be ventilated extensively between occupants.
-Foresee sheets, pillow covers, duvets if you haven't chosen bed linen to be provided at your reservation.
-A special cleaning procedure is put in place for all the sheets, duvets and other linen that we provide and they will arrive wrapped up in plastic.
The sanitary blocks:
3 Recently renewed sanitary blocks are at your disposition and each one is provided with a disinfection station. A strict protocol is put in place. There is an itinerary to follow, we provide disposable toilet seat protection, hydrogel is at your disposition at the entrance of the sanitary blocks.
The restaurant:
The very spacious terrace permits social distancing without any problems. The restaurants opens the 13th of june and will follow all sanitary rules put in place in France, respecting one meter between tables. You're being served on our spacious shaded terrace. Starting the 13th of june we will also offer takeaway meals.
The grocery shop:
-To avoid waiting lines in the village supermarkets where social distancing is sometimes taking lightly, we propose a shopping basket ready and waiting for you at your arrival. A basket with the principal elementary products and a second one, more elaborated. You can pick them up at your arrival or they will be waiting for you in your rental accommodation so that you can enjoy a glass of cold rosé at soon as you arrive. The baskets have to be ordered before your arrival.
-Hydrogel is at your disposition
-An itinerary is put in place and you'll have to respect social distancing inside and outside
-A plexiglass screen is put in place at the checkout counter
-Contactless payment is possible
-You are obliged to wear a mask in our superette
Our partners for activities outside the campsite:
-Descending the Ardèche or the Chassezac by canoe, departure from the campsite, is proposed during the week
-Speleology, canyoning, paragliding, tree climbing, all activities are proposed by professionals who know how to accompany you in the best conditions and how to offer a moment of evasion for you and your family.
-Be assured, there are markets to visit every day. We advise you to wear a facemask when visiting the local markets.
The sanitary measures evolve during the season. The French government is giving updates every three weeks, the 22th of june, the 10th of july…..and will adapt measures following the recommendations of the scientific counsel who seems to be optimistic.
Don't hesitate to follow Arleblanc on Facebook to be the first informed.
What do I have to do for my holiday ? For all stays after the 2nd of june:
Your stay is maintained. As you can see we are ready to welcome you in the best conditions to guarantee a nice and convivial well deserved holiday. On the contrary of hotels and tourist residencies, camping life takes place mostly outside. Our mobile homes are well distanced from another. Our camping spots are spacious. So social distancing is easy!
If, in despite off all this, you wish to cancel your reservation, know that a refund is not possible except if you have subscribed a cancellation insurance and if the reason for your cancellation has a reason that falls within the clauses of this insurance.
If you cancel because of a reason linked to the Coronavirus; if you or a member of your family have Covid 19, if the borders are closed, in those cases we offer the possibility of a rain check to spend on a holiday on our domain within 18 months. Your demand for cancellation has to be done at the latest 21 days before your arrival date.
For every new reservation made after the 11th of may, you'll have the possibility to cancel your reservation free of charges until 21 days before your arrival date if your cancellation is linked to the Coronavirus *, the amount already paid will be converted into a raincheck for your next holiday on our domain until the 8th of november 2020 or in 2021.
*You or one of your familymembers have the Coronavirus or the borders between your country and France are closed in both senses on the date of your arrival.
We are putting in place all the sanitary measures necessary to guarantee you enjoying your holidays in a sanitary safe environment. We hope to see you again soon to spend some unforgettable moments together. Our mascot Lenny awaits your kids impatiently.
See you soon,,
The Camping Arleblanc team
Do you have any questions concerning your reservation?
Send us a mail: info@arleblanc.com
Do you wish to ask your questions in English? You can use Whatsapp to contact our English
speaking receptionist Martha. On monday- and friday afternoon from 14.00 to 16.00 hours, written messages only. 0033(0)6-05.12.74.22