Latest update on 28/08/2020 at 15:00 am
No restrictions for Belgian and Dutch Holidaymakers when returning in their country.  The Ardèche is not situated in a red zone.  
Dear campers, 
It's our goal to offer you a pleasant and convivial stay in the best sanitary conditions. Our 50 years of experience make all the difference.  Be assured, we'll put everything in place so that you can spend your holidays in all serenity and security whether you're in a camping spot or in a mobile home.
Our domain is situated in plain nature and offers 167 places on 7 hectares, permitting social distancing far beyond the 4m2 prescribed and making it possible to have access to all of our usual services; sanitary blocs, restaurant, grocery store, waterpark and swimming pool as well as the private beaches along the riverside.
Don't hesitate to follow Arleblanc on Facebook to be the first to be informed.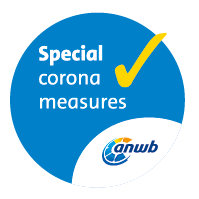 What sanitary measures are taken on our campsite?  
We present you the measures put in place to permit you to enjoy your holidays in a safe way but above all a real vacation, with no worries on your mind.  A complete program of services. Enforced sanitary measures.  Masks are obligatory inside our buildings like the reception and our superette.  
The reception: Respecting social distancing and wearing a mask.  Hydrogel at your disposition.  Installation of a plexiglass screen at the reception desk.  We recommend paying by bank card.  Keys to the mobile homes are disinfected.
The waterpark: The surface of the surroundings have doubled since 2019 which permits everyone to fully enjoy all of the facilities.  The water in the pools is chlorinated, disinfected and disinfecting. The virus cannot survive in the water, so you can enjoy a swim in all serenity.  Hydrogel at your disposition at the entrance of the waterpark.  You'll have to respect barrier gestures and social distancing, except for people from your own family.  Bath towels are obligatory, surrounds are disinfected regularly.
The river:  The river runs alongside the campsite for 900 meters and is an alternative for our waterpark and swimming pools. A water surface of 800 meters permits you to swim freely and several private beaches are destined to our guests and give you the opportunity to relax in the sun. Water from several sources next to our campsite guarantees that the water alongside the camping is constantly refreshed and renewed.
Rental accommodations; mobil-home, chalet, gîte: A specific cleaning procedure is put in place with disinfecting products and virucides. The accommodations will be ventilated extensively between occupants.  Foresee sheets, pillow covers, duvets if you haven't chosen bed linen to be provided at your reservation.  In any case foresee your own blankets and/or duvets.  A special cleaning procedure is put in place for all the sheets, duvets and other linen that we provide and they will arrive wrapped up in plastic.  
The sanitary blocks: 3 Recently renewed sanitary blocks are at your disposition and each one is provided with a disinfection station. A strict protocol is put in place. There is an itinerary to follow, we provide disposable toilet seat protection, hydrogel is at your disposition at the entrance of the sanitary blocks.  Disinfectant products are at your disposition in every cabin.  One person per cabin or with a child.  In the sanitary block where the cabins are not accessible from the outside, wearing a mask is obligatory.  Disinfectant wipes are to be disposed of in the bins and not in the toilets.
The restaurant is open from tuesday till sunday night and open for lunch on Sundays and holidays.   The very spacious terrace permits social distancing without any problems.  The restaurant will follow all sanitary rules put in place in France, respecting one meter between tables. You're being served on our spacious shaded terrace.
The superette is open 7 days a week from 8.00 till 12.00 and from 16.00 till 19.00.   To avoid waiting lines in the village supermarkets where social distancing is sometimes taken lightly, we propose a shopping basket ready and waiting for you at your arrival. A basket with the principal elementary products and a second one, more elaborated. You can pick them up at your arrival or they will be waiting for you in your rental accommodation so that you can enjoy a glass of cold rosé at soon as you arrive. The baskets have to be ordered before your arrival.  Hydrogel is at your disposition.  An itinerary is put in place and you'll have to respect social distancing inside and outside.  A plexiglass screen is put in place at the checkout counter.  Contactless payment is possible.  You are obliged to wear a mask in our superette.  Order your groceries online on our website.  All articles from our shop are available online.  
As you can see we are ready to welcome you in the best conditions so that you can spend your well earned vacation in the best of circumstances.  On the contrary from hotels and other tourist accommodations, life at a camp site is mostly taking place outside.   Our mobile homes are at a safe distance from one another.  Our camp spots are large.  Social distancing is therefore easy.  We take all the sanitary measures necessary to guarantee you a vacation in a sanitary safe environment.  
We hope to see you soon to spend an unforgettable vacation with us,
The Camping Arleblanc team
Do you wish to ask your questions in English? You can use Whatsapp to contact our English
speaking receptionist Martha. On monday- and friday afternoon from 14.00 to 16.00 hours, written messages only. 0033(0)6-05.12.74.22