At the Arleblanc grocery store, we present a selection of products from the Ardèche, from local farmers and producers, we welcome you with a smile, and now we also offer you a drive-in for your groceries.
Ardèche résidents, guests of Arleblanc or other holidaymakers, our grocery store welcomes everybody. You can do your grocery shopping in our superette, in all safety, without having to wait in line, far from the big supermarkets where social distancing is not always respected. We offer you: Opening hours from 8.30 until 12.00 and from 16.00 until 19.00, 7 days a week, we're even open on sunday afternoons.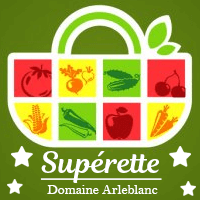 Do you grocery shopping online where you'll find all products at the same price as in our superette. Pick up your groceries and pay them at the Arleblanc superette.
Our drive-in offers you several different shopping baskets
At your arrival in the Ardèche, no need to worry about grocery shopping, we offer you several already filled shopping baskets.
For those guests who stay in one of our rental accomodations it is possible to have your basket delivered to your accommodation so that the rosé wine is waiting chilled in your refrigerator. You can pay for your order in our superette after your arrival.
You'll find us:
At the roundabout next to the Intermarché in Rosières, follow camping Arleblanc for 3 km.
To contact us:
04 75 39 53 11  reception.arleblanc@gmail.com
Order your groceries
online
These are the products we offer you in our superette. To order your groceries please note the quantities wanted. We prepare your order with the utmost care. Do not forget to leave us your name and telephone number in case we need to contact you.
You can pick up your order between 10.00 and 12.00 in the morning or between 16.00 and 18.00 in the afternoon. Please note on the orderform the time you wish to pick up your groceries.
Lailah and Dominique